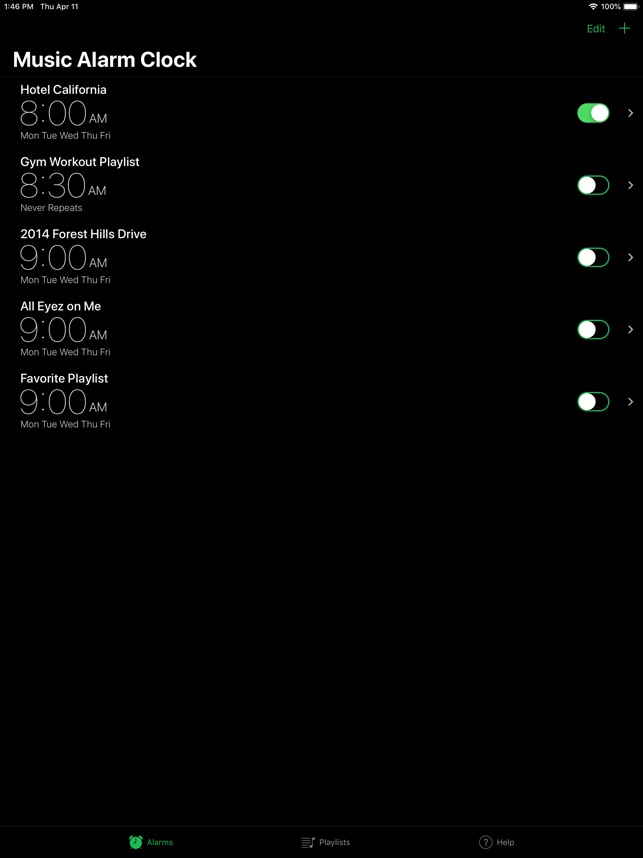 Music Alarm Clock Pro 4.2 ios官方版
大小:19.8 MB
时间:2023-02-02
平台:iOS 10.3 或更高版本
软件简介
Music Alarm Clock Pro for Spotify

Wake up to your favorite Spotify Songs or Playlists!

Music Alarm Clock is the ONLY Alarm Clock for iPhone that supports Spotify music.

"It's Easy as 1-2-3":
1. Create a new Alarm.
2. Choose either one song or create a playlist of songs to shuffle.
3. Lock your screen, relax, and wake up on the right side of the bed!

Supports playing the alarm Bluetooth devices connected to your iOS device.

Notes
• Click "Developer Website" below on this App Store page for the complete FAQ, or email me at iam@willsaid.com
• A Free Spotify Account works! However, *you need a premium Spotify account to play the entire song in Spotify*
• The Spotify Mobile App is not needed
• Internet connectivity is required to find songs and "set" an alarm, but not needed when it goes off.
• Alarms go off for one minute max, but you can always chain multiple alarms together if you are a heavy sleeper. Spotify's API currently only lets the app play 30 seconds of each song, although entire songs are coming soon.
• As stated above, the app currently plays 30 second snippets of the best parts of songs, which should be more than enough to wake up.
• Supports Snoozing, Days to Repeat, and the other features you'd expect from an alarm clock
• The maker of this app is not attached to Spotify in any way. The app simply plays Spotify Content from Spotify's API.
• Most but not all Spotify songs are currently available on the app. This is outside my control, and up to which artists approve third party app usage of their content. The selection size has improved since Version 1 and is continuing to do so. Artists not on the app include Bob Marley, Ariana Grande, and Frank Ocean. Please email me BEFORE downloading the app if there's a specific song you are looking for and I can quickly check. Email me at iam@willsaid.com and I will get back to you very quickly!